How Shina Peters Betrayed His Biggest Benefactor, MKO Abiola And Almost Lost His Career
Every week the until book is released, I will share a story about Nigerian music history and its players. This week features Sir Shina Peters, MKO Abiola and the Abacha years.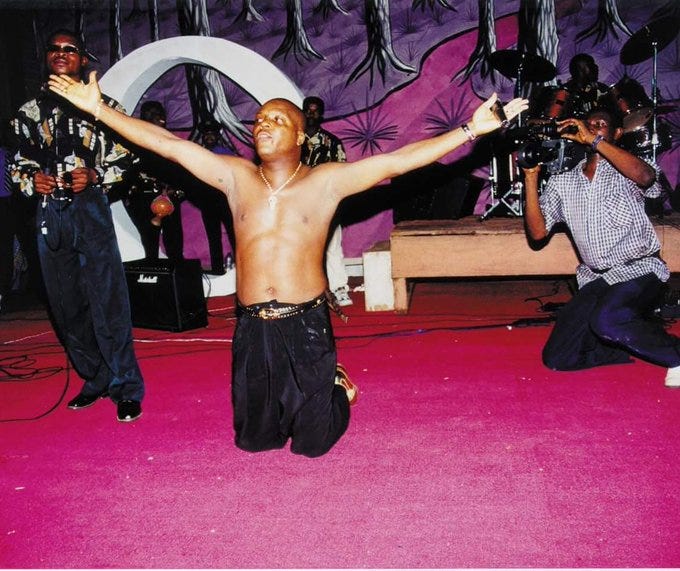 Shina Peters' stardom was unprecedented. For almost ten years, he was the biggest entertainer in Nigeria and his music crossed ethnic and tribal barriers. Having been a prodigious child star, his emergence from the shadow of Prince Adekunle, who was his mentor and Segun Adewale, with whom he made up the duo Sir Shina Adewale- he overtook everybody else in his genre. Before Sir Shina Peters, Juju music was almost exclusively older people's. King Sunny Ade and Ebenezer Obey were the "leaders" of that sound and they owned the audience from the mid-70s until Shina burst on to the scene. He was a fiend on the guitar, an instrument he picked up as a child at the Cherubim and Seraphim Church where he was born. He had his first child at the age of 14 and by the following year, he had built his first house.
However, for all his talent and adolescent success, he couldn't crack the scene on the level of the frontrunners, not even when he ventured into film: he was the star of Money Power alongside Clarion Chukwura in 1982. He was 24, she 18 and Clarence Peters was born the following year. Go figure.
Two conversations changed his life and the course of his music. Fela Anikulapo-Kuti and Sikiru Ayinde Barrister, both inventors of their respective genres (Afrobeat and Fuji) suggested that Shina Peters infused certain elements from their sounds to his, to give Juju a wider reach and more youthful feel. Fela told him to include pidgin English in his songs so as not to alienate non-Yoruba people while Barrister advised that he included omele, the conical drums that gave Fuji its distinctive sound, in his set of percussions and guitars and shekere. The result was a fast-paced variant of Juju that was at once different from Sunny or Obey's. It landed him his breakthrough on the album Ace. He followed up a year after in 1990 when he released Shinamaina. For the first time, Juju had a fresh starlet on the scene- one who surpassed the biggest stars of the genre. I know it's not a fact but I find it quite convenient that it was about this time that Obey finally left secular music and became a pastor. KSA had a deluge of albums in that period- ten in all between '89 and '94, including THREE albums in 1990 alone. It didn't matter: he couldn't touch Shina Peters. Fringe players like Micho Ade, Dayo Kujore, Olu Fajemirokun and Dele Taiwo were decent musicians themselves but Shina outshone them all.
It was true what Fela said, people from all parts of Nigeria were attracted to Shina Peters' music: the pidgin made them understand some parts and the throbbing, funky disco beat made them dance for hours on end. Shina Peters was fresh, was young, was pop and was the new King- at least for Afrojuju which was his own innovation.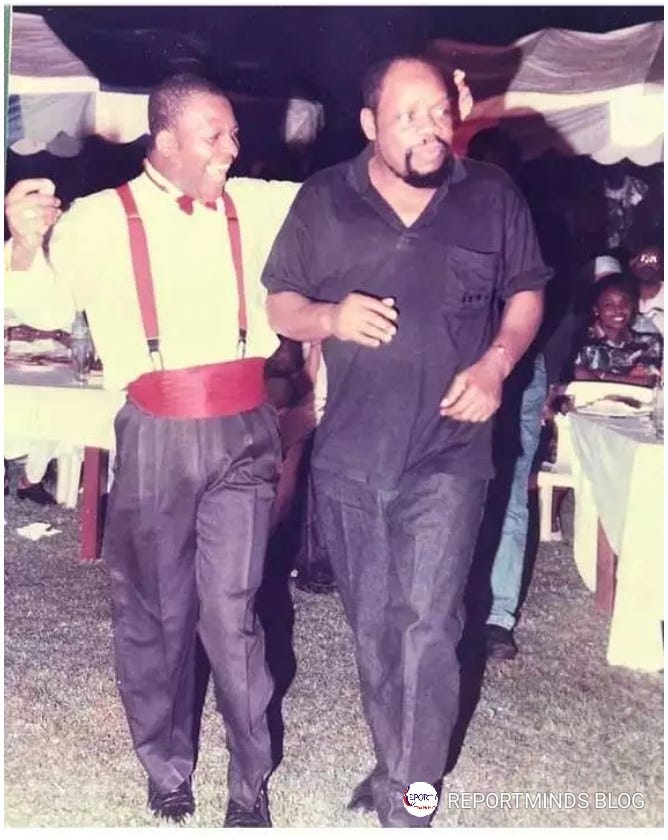 Ace sold five million copies- physical tapes o!- and Shinamania did seven (verifiable) million. I say verifiable because SSP once told me that those were the figures SONY Music reported to him at the time and it excluded the other millions of cassettes that former First Lady Mariam Babangida shared on her nationwide Better Life for Rural Women scheme. Through his 1989 to 1992 run when he released his highest-selling records- Dancing Time and Experience in '91 and '92- Shina must have easily sold twenty million copies of his albums. Shows nko? No party was complete without Star in attendance. When Bukola Saraki, scion of the Saraki political dynasty got married to his wife Toyin from the Ojora Royal Family Lagos at the Tafawa Balewa Square in 1991, Sir Shina Peters was the star of the day. Shina Peters was big BIG and he lived up to his Star moniker. The closest one can compare to him to is Wizkid, if Wizkid could perform at daily shows for three straight years, only slowing down when doctors informed him he could literally fall down and die on stage.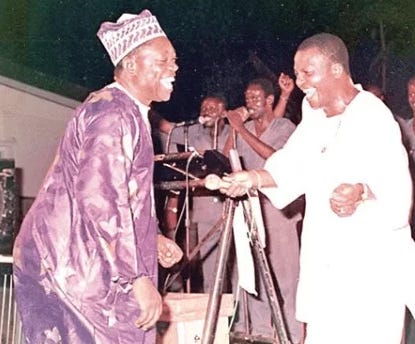 One major factor in Shina's stratospheric rise and dominance was the benevolence of Moshood Kashimawo Olawale Abiola, industrialist, billionaire and Nigeria's President-that-never-was. MKO, as he was fondly called, was a patron of the arts; himself quite a proficient singer in his youth. He had a band with his friends as a teenager in Abeokuta. MKO's generosity knew no bounds. He once famously declared that should àgbàná, the Yoruba spirit of spendthriftiness and resultant poverty, find its way into his wealth, àgbàná would eat and eat and eat till it dies therein.
MKO was one of the first patrons Shina Peters had. Even when he was struggling to assemble his band in the beginning, he had MKO to fund his endeavours. MKO's Concord Newspapers was also favourable to his coverage: whenever tabloids like FAME and Kwality had salacious news about SSP (and he had them in abundance), Weekend Concord was there to counter it. In time, Shina Peters became more like family. He flew with Abiola's jets several times. He became friends with his kids, Kola Abiola mainly. On Side B of Shinamania, he declared that Bashorun Abiola was a leader and he was the follower, similar to K1 De Ultimate's relationship with Ashiwaju Bola Tinubu. He called Abiola the one who is openhanded to friends and family. He sang of Abiola's detractors who were not satisfied by his magnanimity towards them. The irony was, he was unconsciously speaking about himself because before that decade ran its course, he would openly declare his support for General Sani Abacha who stole Abiola's mandate and had him locked up.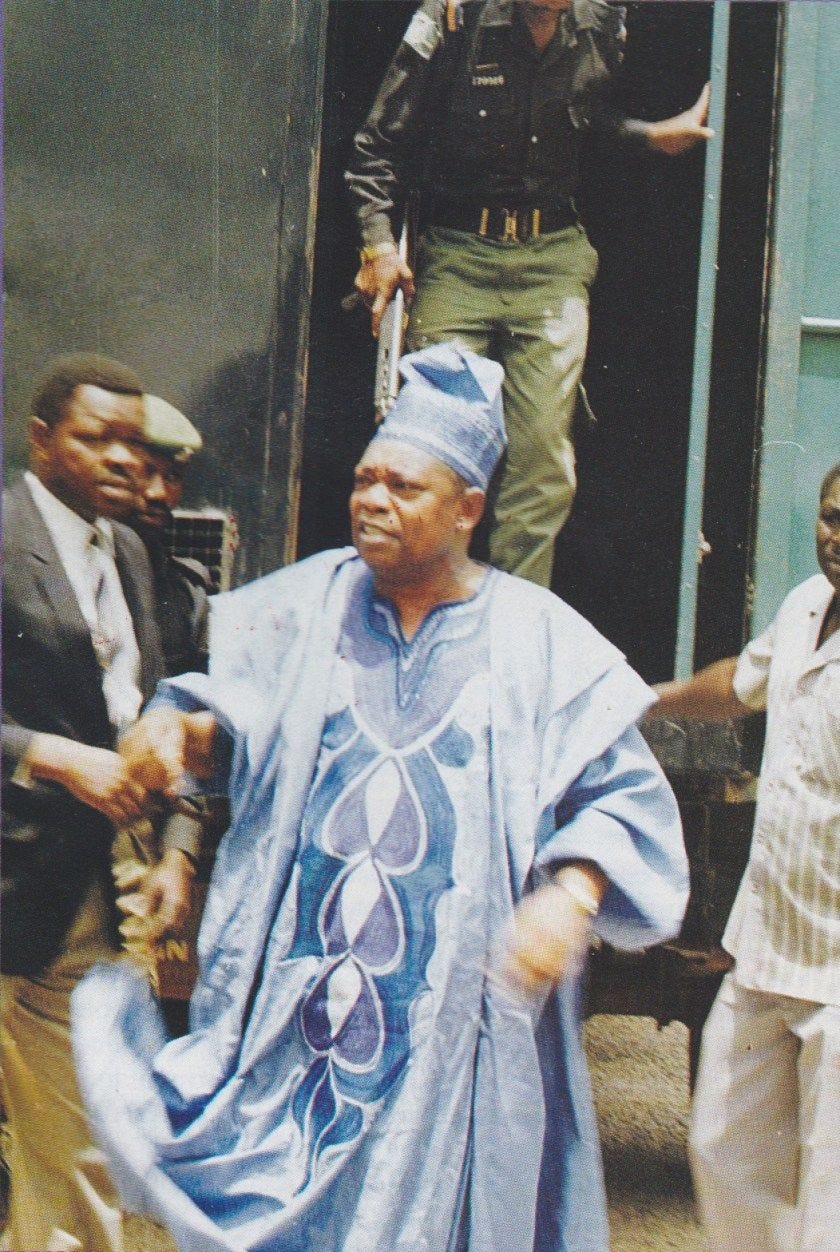 MKO Abiola's foray into politics was doomed from the start. He was friends with General Ibrahim Babangida, Nigeria's military ruler from 1985 to 1993. IBB made no secret of the fact that he wanted to transition into a civil ruler, similar to Mobutu Sese Seko of Congo DRC and many other African dictators that shed the uniform for the agbada. Sure, he commenced plans for a return to democracy and the elections held. But till date, he hasn't properly explained why he annulled the June 12, 1993 presidential elections won by his erstwhile friend, MKO Abiola. This threw Nigerian into a political crisis culminating in IBB "stepping aside" and handing over government to an interim government. That administration, led by Ernest Shonekan, lasted exactly 83 days and then it was by toppled Abacha, the most brutal ruler Nigeria has ever had. On June 23 1994, just over a year after the 1993 annulment, Abiola declared himself the president of Nigeria, having won freely and fairly. Abacha immediately accused him of treasonable felony and had him arrested. Abiola would never again see the light of day.
As it happened in Tunde Kelani's satire on Nigeria, Saworoide, Sani Abacha also began to have ambitions of being a "president." There was a constitutional conference where a timetable was drawn for the return to democracy. Of course, nobody believed Abacha was really going to relinquish power so it was no surprise when each of the five new political parties under him- the Congress for National Consensus, the Democratic Party of Nigeria, the Grassroots Democratic Movement, the National Centre Party of Nigeria and the United Nigeria Congress Party - adopted him as the sole candidate of all parties. One of the platforms that were set up for his campaign was the Daniel Kanu led Youths Earnest Ask For Abacha. In March 1998, YEAN organized a One Million Man March to advocate for Abacha's self-succession. As many administrations do, they reached out to musicians to join their cause to to "extol the benefits of  'Abachism". Three notable musicians rejected the offer- KSA, Barrister and Femi Kuti. Among the others that accepted and performed, was Sir Shina Peters.
** I cannot say for sure how much he was paid but Kanu claimed at the time that the cost of the rally was four to five hundred million naira. It's a safe bet that SSP got two to three million nairas."
It was a slap on the face of the Abiola family and millions of fans. This was before Cancel Culture but he was cancelled at the time. The family had adopted him as one of theirs and while their patriarch languished in detention- in solitary confinement for most of the four years he was locked up; seen his second and most senior wife Kudirat (his first wife Alhaja Simbiat died of cancer in 1992), assassinated by operatives of the military junta. One did not have to be a member of the Abiola family (although for full disclosure, the late Simbiat was my mother's cousin) to be pained by the treachery. In 1998, Shina Peters was Judas Iscariot personified.
As fate would have it, Abacha died three months later. Sadly, Abiola died in detention exactly a month later. Perhaps if he came out alive, he would have forgiven SSP but as he did not, the entire Yoruba race held brief for him. Shina's sales tanked, there were no shows to attend and what's more, the National Association of Nigerian Students, a vital part of the fight for democracy, declared him persona non grata. Incidentally, he had recorded his Dancing Time album at the Amphitheatre, Obafemi Awolowo University in 1991.
He got a reprieve and ultimately, forgiveness, two years after Abiola's death. He has media magnate and former Abiola protege Dele Momodu to thank. In addition to being the publisher of Ovation Magazine who also got his breakthrough MKO, he was a Great Ife as well. His Ovation Concert in Ife had Shina Peters on the bill. Students refused to allow him to perform on their stage. Now if you know anything about OAU, the student movement was very strong and had removed a couple of Vice-Chancellors. It took several minutes of appeals by Dele Momodu before the students accepted him into the Amphitheatre, but not before he was asked to apologize. Ever the showman, Shina Peters got on his knees, spread his arms wide and begged for forgiveness. The student leadership okayed it and he went on to give a spectacular performance.
Today, SSP still enjoys the love that generation had for him and younger people who were children in his heydays relieve those days with sweet nostalgia. He normally does not answer the Abacha question these days. Who wouldn't want to forget such a horrendous error in judgement- if his betrayal could be called that?
---